5 Thai Desserts You Need to Try
5 Thai Desserts You Need to Try
When people think of Thai food in Los Angeles, many of them jump to the savory dishes—pad thai and pad see ew, in particular, come to mind. However, that doesn't mean you should skip out on amazing Thai desserts altogether! If you combine Thailand's abundance of delectable tropical ingredients and their affinity for bold flavors, you've got a wide selection of sweet treats that knocks everything out of the park.
Today, we'll be taking a look at some Thai desserts that not only taste awesome but look awesome as well. They are all deeply rooted in Thailand's history and are undoubtedly one of the reasons why Thai cuisine is well-loved not just in Thailand but all over the world.
Mango Sticky Rice (Khao Niao Mamuang)
Of course, we can't talk about the best Thai food in Los Angeles without mentioning Thailand's most iconic dessert, mango sticky rice! This classic street food is sought after by both locals and foreigners and is a staple in many Thai restaurants.
This dish consists of glutinous rice that's been cooked in coconut milk and served warm. It's paired with a few slices of fresh mango and more coconut milk to give you a sweet and gooey texture with every bite.
As you can see in the photo, Emporium Thai's mango sticky rice looks almost too pretty to eat. Indeed, this is one of rapper and songwriter Cardi B's favorite desserts!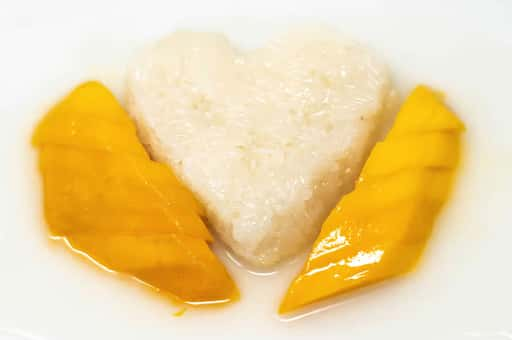 Source: Emporium Thai
Mung Bean Candy (Luk Chup)
Speaking of being too pretty to eat, here is another Thai dessert that'll have you gazing and gushing!
Luk chup is a mung bean candy that's inspired by Portuguese marzipan. Mung beans are grounded into a paste along with coconut milk and sugar. Then, it's coated with a thin layer of food coloring and agar to give the finished product some extra oomph.
Luk chup can be found in many Thai sweet shops and come in a variety of shapes and sizes. They're usually molded into mini vegetables like chilis, mangoes, watermelons, eggplants, and so much more. It's so much fun to see what other shapes you discover!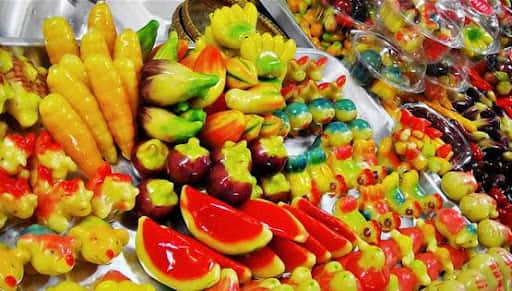 Source: Tasty Thailand
Coconut Balls (Khanom Tom)
Khanom tom is one of the oldest desserts in Thailand's long and rich history. It dates back to the Sukhothai period which started in 1238 and was initially reserved for auspicious celebrations and royal ceremonies. Isn't it amazing that a dessert created so long ago is still well-loved today?
Khanom tom is made with glutinous rice flour, shredded coconut, sugar, and coconut cream. It can also be flavored with other things like pandan, sweet potato, and yams if you'd like a pop of color. Essentially, you just have to roll out the sticky dough, fill it with shredded coconut filling, close it up, and roll it with even more shredded coconut.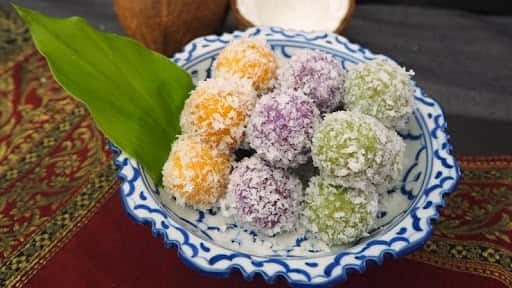 Source: YouTube
Sweet Thai Crepe (Kanom Buang)
Kanom buang is Thailand's version of the pancake or crepe. And boy, do they do it well!
An ancient snack that's sold by street vendors all over the country, these Thai crepes can be served either sweet or savory. They look like mini tacos that have been filled with meringue and are usually served with different toppings like shrimps, coriander, pepper, fish sauce, and salt for savory crepes and sugar, shredded coconut, and syrup for sweet crepes.
Like coconut balls, sweet Thai crepes have a long, rich history. You'll find that many of the best cooks of this dish are elderly people who use recipes that have been passed down from generation to generation.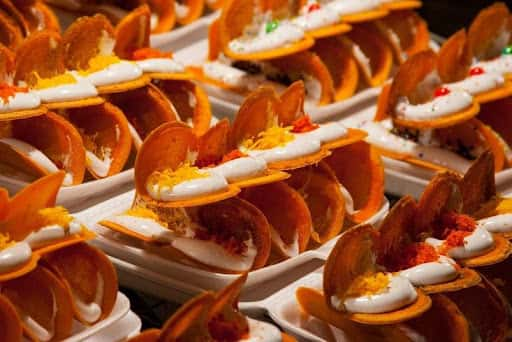 Source: Wikipedia
Coconut Ice Cream (Itim Kati)
Located near the equator, Thailand is no stranger to hot and humid weather. That's why coconut ice cream is the perfect treat to combat the heat!
Many coconut ice cream vendors serve the ice cream in a small half-shell that's been thoroughly scraped off. This constitutes the bowl and makes for an amazing Instagram photo. Then, you can choose from a variety of toppings and syrups like peanuts, sweet corn, and coconut cream for some extra sweetness.
Indeed, this is one dish you'd absolutely go coconuts for!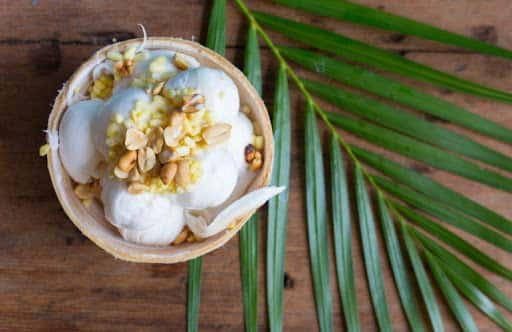 Source: Localise Asia
Conclusion
As you can see, there are many desserts that Thailand has to offer. So, the next time you're looking for the best Thai food in Los Angeles to sample, why not add on a little sweet treat? We at Emporium Thai are sure that all of these yummy desserts will not disappoint!