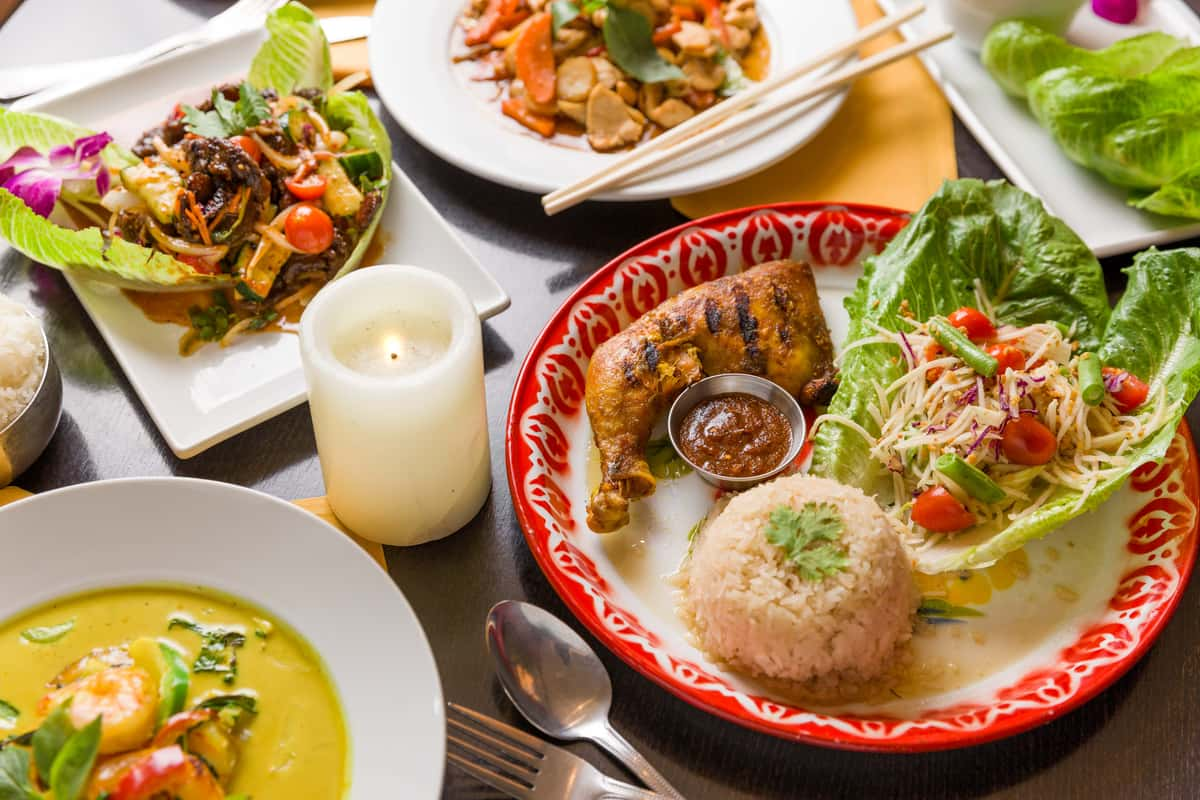 Catering
Thai Cuisine Catered At Your Event
Try our delicious family-style Thai food delivered right to your special event.
Why go to Thailand, When it Can Come to You
When your guest is craving for Thai food, then look no further. Whether it's satay, pad thai, or spring rolls, catering through us means you will get Thailand at your event.
We can create an impressive Thai catering spread to impress your guest. Don't believe us? Check out our Catering gallery for mouth-watering dishes.
Spicy, sweet, and savory is the epitome of Thai cooking, which brings a lot of exciting and unique flavor to the table. Our goal is to ensure that you get the best menu choices for whatever you want.
Why Choose Us?
We can spice up your special event needs through pad thai catering. You can choose a one-time satay catering event or bring the taste of Thailand through our curated corporate meal service; we can help.
We can hand-craft your experience to fit your budget, so what are you waiting for? Order catering with us today!
Become a VIP
Become our VIP and get free delivery up to 5 miles this month to celebrate our 21st anniversary!
Catering Menu
Boxed Lunches
Individually Packages
Appetizers
Small Tray Serves 8 | Medium Tray Serves 12 | Large Tray Serves 18
Catering Packages
UCLA Package
Emporium has worked with the UCLA community for several years. We understand that the UCLA departments have a restricted budget but are constantly craving for unique dishes. 

Why Choose Emporium?

Menus designed to impress and fit your budget
Diverse menu to satisfy any taste buds
Excellent services that cater to both drop off and elegant dinners
We know the UCLA campus like the back of our hands, so we can easily find your event location.

Now, that you are interested in our UCLA package, here is what you will get:

Includes your choice of pad Thai (stir-fried rice noodles w/ eggs, bean sprouts, scallions & ground peanuts), yellow curry (w/ coconut milk, potatoes & onions) & pad broccoli. Served with 1 tray of jasmine white rice.
Beverly Hills Package
Are you hosting a large event or gathering in the Los Angeles area? Then you'll want our Beverly Hills Catering Package that includes some of our most popular Emporium Thai restaurant favorites. You can customize our Thai vegan Beverly Hills Catering Package to include meat if you want a variety of menu options for your guests. 

The Beverly Hills Catering Package includes:
Thai Basil Curry (w/ basil, garlic, and Thai chili peppers): your choice of tofu, chicken, or beef.
Panang Curry (w/ coconut milk, green beans, lime leaves, and basil): your choice of tofu or chicken.
Pad Broccoli: your choice of tofu, chicken, shrimp, or beef.
Thai Vegan Papaya Salad (w/ green papaya, peanuts, and spicy lime sauce)
Thai Vegan Spicy Eggplant (w/ eggplant, basil, and Thai chili): your choice of plain or crispy.
2 Large Trays of Jasmine White Rice

Add drinks and desserts for a full Thai restaurant Beverly Hills experience. We offer an impressive Thai vegan spread that will delight and satisfy your guests. 

Not sure which Thai package is right for your next party or event? Order with us and we will customize the order to fit your budget and guest size.

Related Link: Special Event Inquiry
Hot Entrees
Does Not Include Rice
Curry
Consider adding drinks and desserts. Does not include rice
Rice
Consider adding drinks and desserts.
Pineapple Fried Rice
There are lots of fried rice varieties out there, with different cultures having their own iterations. The tastiest, most delicious fried rice menu is, however, the pineapple fried rice Thai edition. Thailand has always been one of the top producers of pineapple (and very juicy ones at that!), so it makes sense that the country's most famous and popular cuisines would be derived from pineapple as well. 
Pineapple Thai cuisine is also quite common throughout South East Asia, particularly in Singapore and neighboring Thailand, such as Cambodia, Malasia, and Laos. The fact that the dish mostly incorporates ingredients easily and commonly found in South East Asia, such as jasmine rice and fresh pineapples, is a significant contributor to its popularity. 

Our pineapple fried rice variation is a combination of the fluffiest Thai rice, sweet well-cut pineapple slices, and a bunch of rich veggies like carrots, onions, and scallions. If you fancy some protein, you can have your meal enriched with chicken, shrimp, or crispy tofu cuts. That way, you get a perfect combination of sweet and spicy, with the rice and pineapple providing the former while the spiced proteins provide the latter. 

Apart from the home delivery service, we can also do fried rice catering if you have an event or guests you want to indulge with a taste of the finest, juiciest, and most delicious fried rice pineapple menu in the world. For inquiries and to book our catering service, drop us a line via our Order Catering Page, and one of our team members will assist you.
Small Tray
$69
Medium Tray
$89
Large Tray
$109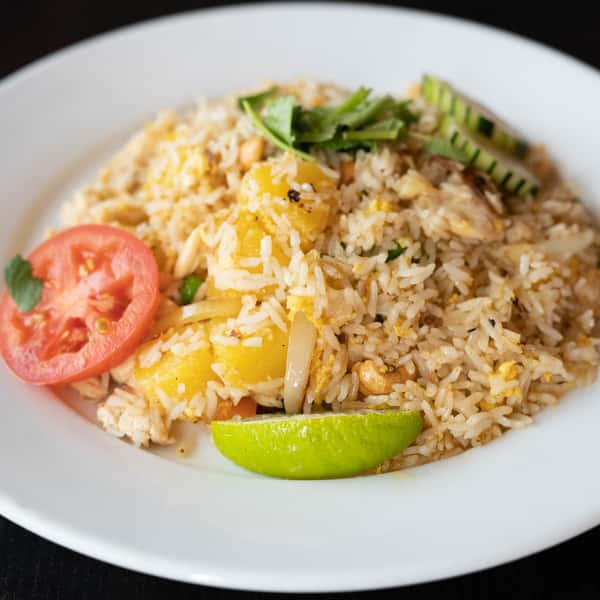 Salads
As a side salad, you can usually order for just half your headcount.
Papaya Salad
Brief history
Papaya salad is a signature dish in Thailand and a popular one in Cambodia, Laos, and Vietnam. Although many Thai restaurants offer papaya salad, it is popularly known as street food.

Papaya Salad (Vegan)
This delicious signature Thai dish consists of Fresh green (unripened) papaya thinly sliced, cherry tomatoes, long green beans, shredded carrots with spicy lime sauce with crushed peanuts. We do not use fish sauce in our papaya salad.

This salad is made by cooking the long green beans until they are tender in salted water, thinly slicing the papaya, cutting the cherry tomatoes in half, and shredding the carrots. Then in a large bowl tossing them in the spicy lime sauce. Plate up the salad, then sprinkle the top with crushed roasted peanuts adding the perfect amount of texture and flavor. Thai food is well-known for being salty, spicy, sweet, sour, and bitter—all at the same time. And this Papaya salad is undoubtedly one of these dishes that encompasses all of these flavors.
Small Tray
$49
Medium Tray
$69
Large Tray
$89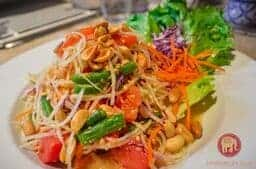 Desserts
Thai Donuts
You've never had a Thai donut like this; try Emporium Thai's house-made Thai donuts today!

Never tried them?

Pa Thong Ko, also called a Thai donut, is an extremely popular (and delicious!) dessert that originated from Chinese cuisine. They are essentially a deep-fried dough made from simple ingredients, but that description doesn't do them justice -- you have to taste them for yourself! Thai donuts are great as a snack or after a meal, and they typically get served with sweet condensed milk.

You can find Thai donuts being made by vendors throughout Thailand, and they are a favorite for almost everyone.

What makes Emporium Thai's donuts so special?

Gina Sungkamee, our executive chef, studied at the most prestigious culinary school in Bangkok to perfect the art of Thai cuisine. We use ingredients from local farmers and purchase them fresh daily.

While Thai donuts may seem simple to make, you'll taste the difference when they're made by a real Thai chef. What are you waiting for? Try a Thai donut from Emporium Thai, and you'll be hooked!
Small Tray
$49
Medium Tray
$69
Large Tray
$89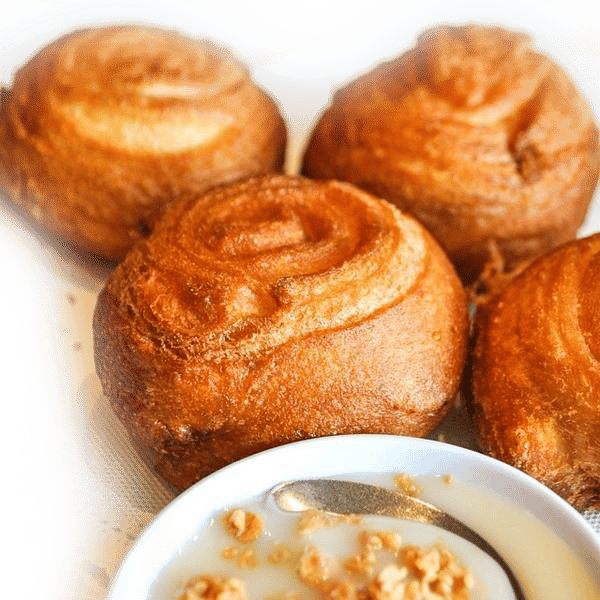 Beverages
Assorted Individual Sodas (Assorted Diet, Regular or Half Diet & Half regular) $2.00/Person
Sparkling Water $3.00/Person
Coconut Juice $6.00/Person
Mineral Water $2.00/Person
Thai Iced Tea $3.00/Person
Catering Order Inquiry
Use the "ORDER CATERING" button above to order right away. For questions or other catering order inquiries, please list the catering items you'd like to order. Also please provide date, time of your order and we'll be in touch shortly!