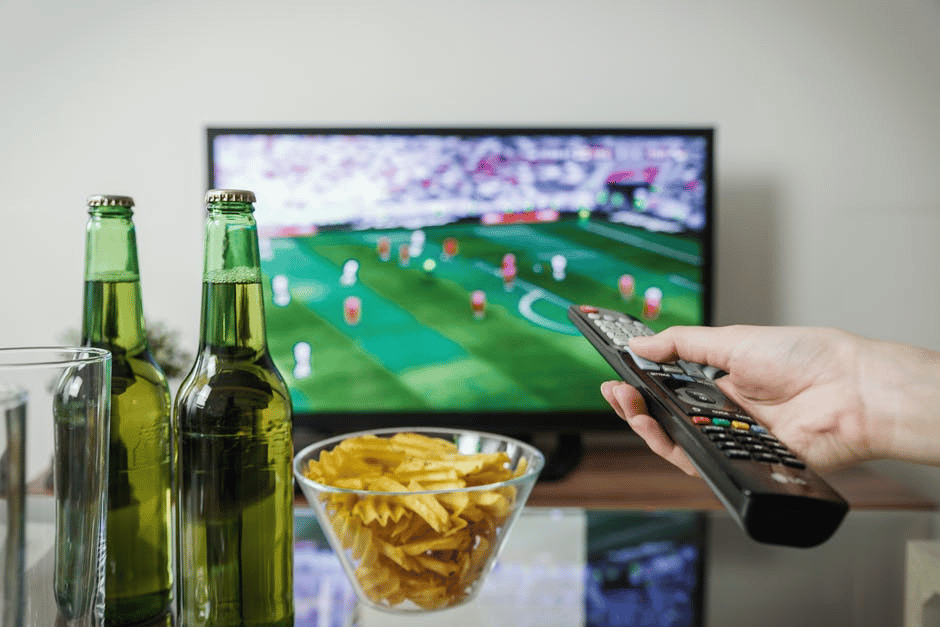 The Best LA Super Bowl Takeout, Catering, and Delivery for Your Party
The Best LA Super Bowl Takeout, Catering, and Delivery for Your Party
Super Bowl Sunday is approaching fast, and whether you need just a little something special for dinner to celebrate or require a full-on catering service for your raging halftime party, Emporium Thai has got you covered. Voted in the top 100 best Thai restaurants in the US, they have served more than 1,000,000 happy customers over their 20+ years of operation. You can enjoy three generations of unique family recipes of top quality Southern Thai cuisine that isn't afraid to pack the heat with its mix of distinctive spices you won't taste anywhere else.
Emporium Thai is well known for its spectacular curries, particularly their top-selling Southern Curry and Southern Seafood Curry. These dishes are made using only fresh, locally sourced ingredients and contain no MSG or fish sauce. You can bravely choose to test the heat of their signature dishes or ask for a milder course if you're not the biggest fan of spice.
Related: 5 Best Thai Restaurants In Los Angeles
Take Out & Delivery
If you and your family are planning to celebrate while watching the big game, consider giving Emporium Thai's delivery service or quick and easy pick-up option a try. Their menu is extensive and offers a wide array of appetizers, salads, and soups, along with countless varieties of noodle, seafood, and curry-based entrees. Be sure to try out some of their authentic Southern Thai street food, like Crying Tiger Beef with Thai Sticky Rice and Pad Prix King Crispy Pork.
Don't forget to browse their fine selection of special drinks and desserts. Their Fresh Mango with Sticky Rice, Thai Donuts, assorted fruit, Fresh Young Coconut Juice, and Boba Thai Iced Tea are some delectably sweet treats that you should consider adding to your Super Bowl celebration order.
Emporium Thai delivers to residences up to 12 miles away from their establishment, and delivery fees are based on distance. While you're picking out your food on their website, also be sure to check out Emporium Thai's efforts to feed front line, pandemic workers. You can support them by donating a meal so that those who can't go all out for a Super Bowl celebration can at least get some quality food while they're fighting to save lives.
Are you looking for some top-quality catering for the next big event in your life? Check out Emporium Thai to learn about what their services can do for you.
Catering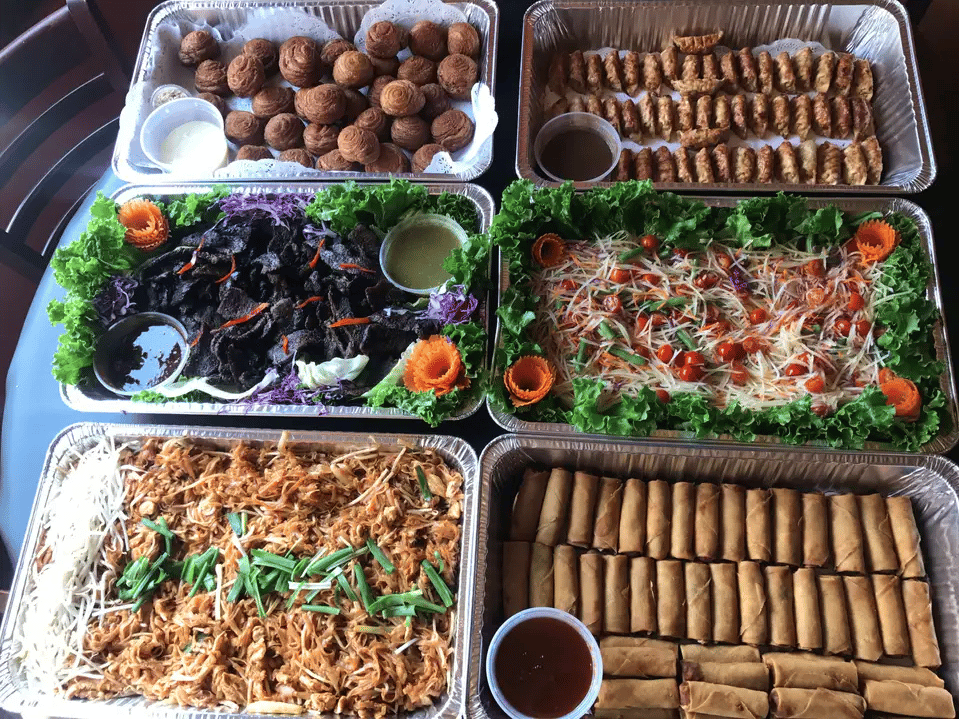 Super Bowl catering is almost essential, especially if you plan on getting together with friends and family for a big celebration. You're not likely going to be able to keep everyone fed and satisfied with a few standard party platters from the supermarket. Emporium Thai has a ranking of 4.6 stars based upon over 2500 catering reviews from numerous satisfied customers, so you can be sure that you're getting top quality service. Emporium Thai offers six different catering packages for you to choose from. Most come with a wide array of customization options so that you can create your perfect party menu.
Don't forget to add on a selection of drinks or desserts to enjoy with your guests at the end of the meal. Everyone deserves a little something sweet, after all, especially after chowing down on deliciously spicy meals like those offered by Emporium Thai.
Related: Top 8 Trendy Restaurants Where You Can Spot A Celebrity In LA.
The Santa Monica Package
This is their most popular catering option, which serves 25 people for only $345.00. You can customize your order and choose between several options for Pad Thai, Southern Curry, spicy eggplant, and Pad Broccoli.
The UCLA Package
The smallest package available by Emporium Thai serves up to 15 people for $206.00 with customization options for Pad Thai, Yellow Curry, and Pad Broccoli.
The Finger Foods Package A
This package serves up to 40 people for $429.00 and comes with chicken satay, crispy veggie egg rolls, Thai Buffalo wings, Thai chicken dumplings, and 50 cream cheese ragoons.
The Malibu Package
The third option provided by Emporium Thai costs $543.00 and serves up to 50 people. You can customize your selections of Pad See Ew, Pad Thai, Southern Curry, Cashew Nut Stir-Fry, spicy eggplant, and Pad Broccoli.
The Finger Foods Package B
For $987.00, this package includes a customized selection of chicken satay, crispy veggie egg rolls, Thai Buffalo wings, Thai chicken dumplings, Crying Tiger Beef, and 100 cream cheese ragoons to serve up to 90 people.
The Beverly Hills Package
This final package costs a total of $1,108.00 and serves a maximum of 90 people. It includes customizable options for large trays of Thai Basil Curry, Panang Curry, Pad Broccoli, and spicy eggplant.
Related: 10 Best Places For Late Night Thai Food In Los Angeles
VIP Program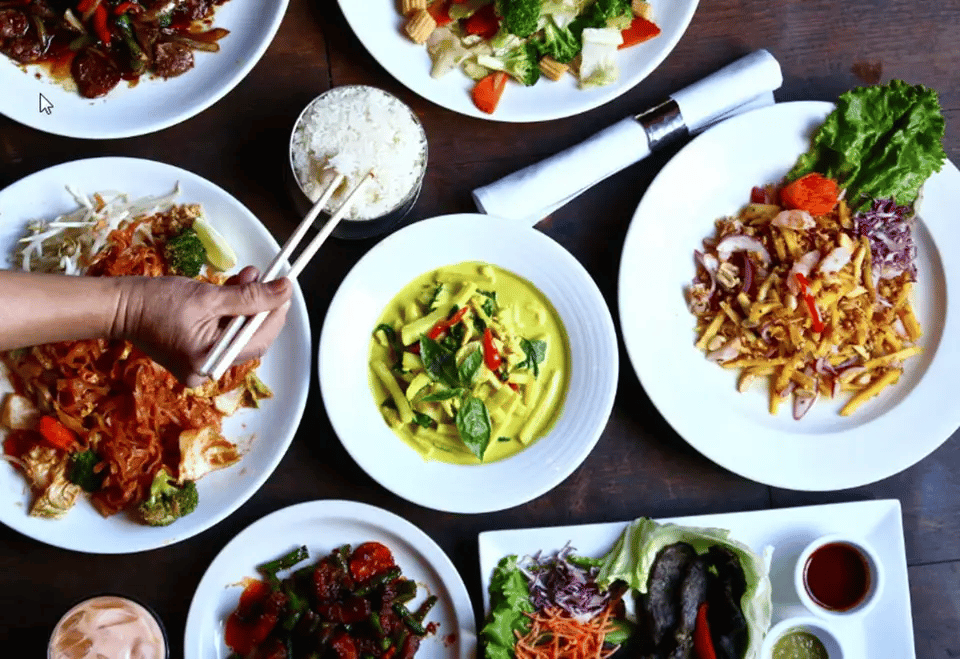 Whether you're just ordering take-out or hosting a major football party that requires enough food for 100 people, Emporium Thai is the restaurant that you can count on. Their vast selection of unique and delicious Thai cuisine means that they have something on their menu that everyone can enjoy. Consider becoming a VIP customer before ordering for your big Super Bowl celebration and take advantage of their exclusive offers. You'll get updates on special events, access to new menu items, special menu reviews, and much more.
Whether you're looking for some quality cuisine for dinner or want to feed an entire Super Bowl party, Emporium Thai has you covered. Take a look at their menu to learn more.